Since the beginning of the New Year, there has been an influx of new students showing up to the mat. Yea! One of two things may be driving this: My nagging is finally paying off...people are hauling their friends and neighbors to class to shut me the hell up OR a lot of people penciled in "try yoga" on their list of New Year's resolutions. Either way, I'm a happy girl.
More and more people are discovering the myriad of health benefits that having a regular yoga practice provides. From managing stress and anxiety, to improving strength and flexibility to helping prevent cancer,
the research and findings are vast, and as such the popularity of yoga is on the rise.
Are you one of those people that resolved to try yoga this year, but due to the multitude of choices, aren't sure where to go or what class to try?
Yoga is readily available at a many venues. The first and most obvious being a studio. Yoga studios usually offer the largest selection of classes on a daily basis, which makes it easier to find a class that works with our over-scheduled lives. But having the convenience of schedule does not always come cheap. The drop-in rate for a single class can easily be fifteen dollars or more depending on the size of the city in which you live. However, studios usually offer class packages or monthly memberships making the cost of yoga more affordable on a per class basis.
Many gyms and fitness centers offer yoga, in addition to several
other
group fitness classes as a benefit of membership. This is a great way to sample yoga without making a large financial commitment to a studio.
Great yoga teachers can also be found teaching in church basements, community centers, in neighborhood clubhouses, and even at Lake Norman Taekwondo on Monday's at 10:15. (hint, hint!)
If group fitness is not an option for you, many teachers offer private instruction or small group instruction. The going rate is $50/hour and up, with an average of about $65/hour. Again the price depends on the city in which you live and the experience of the teacher.
A good resource for finding classes near you is:
www.yogafinder.com.
Okay. That handles the where, but what about the what?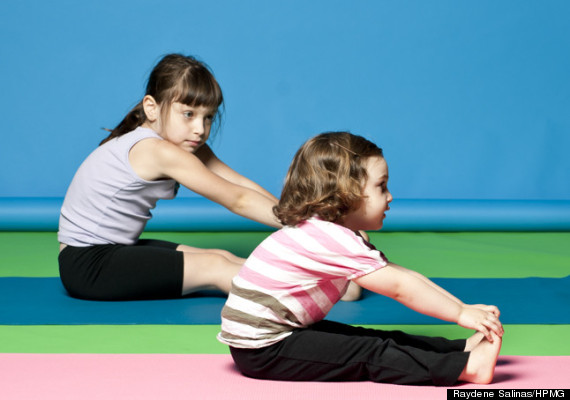 If they can do it, you can do it!
Even if you have never tried yoga, even if you cannot bend and touch your toes, even if you are well into your retirement years, THERE IS A YOGA CLASS FOR YOU. Look for a class titled: Beginning yoga, Gentle yoga, Restorative yoga, Chair yoga or look for the words, "good for all levels" in the description.
On the flip side, even if you are a hard core athlete, even if you run marathons or do cross-fit, THERE IS A CLASS FOR YOU. Look for a class titled: Ashtanga, Vinyasa, Hot, or Power yoga if you want to lose five pounds in sweat every time you practice. Or, look for a class titled: Yin yoga if you want to go past the muscle, deep into the fascia as a complement to heavy weight training.
Last summer I sat amongst a group of women
and
listened as they chatted about their protein shakes and wheat germ diets. The conversation quickly turned from diet to exercise as each proclaimed, "Yoga is
soooo boring
." WHAT!?
Obviously they haven't been to the right class...for them, for their lifestyle, for their personality type.
Like Baskin Robbins with 31 Flavors, yoga types and styles are many. If you try one flavor of yoga and it's not to your taste, don't spit it out and walk away. Sample another flavor. Because like ice cream, yoga is delicious once your discover the flavor you like best!
AN OVERVIEW OF POPULAR YOGA STYLES:
AcroYoga: A combination of yoga and acrobatics that utilizes partners to perform various aerial yoga poses.
Ashtanga: A vigorous, athletic flowing style of yoga comprised of six different pre-determined sequences, which students progress through at their own pace. Considered a pre-cursor to vinyasa and power yoga, it heavily influenced the way we practice yoga today.
Bikram: The name Bikram was trademarked by living yoga master Bikram Choudhury. It is a series of 26 yoga poses completed in a ninety minute period in a room heated to 104 degrees fahrenheit with 40% humidity. The classes begin and end with a prescribed breathing technique and always follow the same sequence.
Hatha: The term "hatha" encompasses all styles/lineages of yoga. When you practice, Iyengar yoga, you are practicing Hatha yoga. When you practice, Ashtanga yoga, you are practicing Hatha yoga. When describing a class, Hatha typically refers to a style of yoga practiced where each of the poses are held for several breaths, rather than moving quickly from pose to pose. For this reason, Hatha yoga is good for beginners.
Hot: Any style of yoga performed in a heated space. Bikram yoga is hot yoga, but hot yoga is not Bikram yoga.
Iyengar: The focus of this style of yoga is precise alignment. Its founder, B.K.S. Iyengar is credited with being the first person to utilize yoga props (straps, blocks, etc.) which are now commonplace in most yoga classes/studios. Props are used to make yoga postures accessible to all body types and assist the practitioner in finding proper placement of joints and skeleton.
Jivamukti: A physically intense practice where e

ach class has a theme that is explored through yoga scripture, chanting, meditation,

asana (poses), pranayama (

breathwork) and

music.

Kundalini:

Kundalini yoga is rich in tradition and ritual, with its' devotees often dressed in flowing, white (or light colored) apparel

with

their

hair covered in a turbine-like dressing.

Kundalini sequences, called Kriyas, usually

consist of rapid, repetitive movements performed in conjunction with a designated breathing method or holding a pose while breathing in a particular way.

It goes beyond the physical performance of poses with its emphasis on breathing, meditation,

mudras

and chanting.

Restorative:

Relieves the effects of stress by alternately stimulating and relaxing the body to move toward balance. Considered "active relaxation", this form of yoga relies heavily on the use of props, such as: blankets, blocks, bolsters, and straps to put the practitioner into the pose and leave him/her for several minutes.

Thai Yoga Massage:

Often dubbed "lazy man's yoga", TYM involves two people: a "giver" and a "receiver" whereby the "giver" performs yoga on the "receiver". It is a healing art that utilizes Ayurvedic and Chinese medicine along with yoga and focuses on balancing the physical and energetic bodies of the "receiver" while following his/her breath. This is a great option for people with very limited mobility including but not limited to practitioners with arthritis, multiple sclerosis, and paralysis just to name a few.

Vinyasa: One of the most popular styles of yoga, Vinyasa simply means to flow from one pose into the next. It is very similar to Ashtanga, but the sequences on not predetermined. It can be found in varying degrees of difficulty and intensity depending on the teacher and/or studio. Typically a more intense vinyasa will be labeled "power" yoga.
Yin:

Most of the styles of yoga described above are yang in nature, meaning the practitioner is moving through a series of yoga poses (asana) and typically staying in the pose for 2-30 seconds. Yin yoga incorporates approximately 25 poses, seated or reclined, and each pose is held for 2-10 minutes.

Yang yoga targets muscles where yin yoga targets fascia. This is a popular choice with the cross-fit community.
If you're in the Charlotte Metro area: Mooresville, Cornelius, Huntersville, Statesville, Concord or Davidson and would like recommendations for a yoga teacher or studio, please feel free to contact me. Through my yoga teacher training, I have met some of the best in the area and would be happy to make the connection.